Sammy is a 9 month old Great Pyrenees rescue who came to me at the encouragement of a very dear friend. Sammy was being fostered and needed a home. I love Pyrs, so I said YES! Sammy is a very sweet puppy. We are learning and training together with help from Marion and a professional trainer.
Luna Bella is a 5 month old Australian Shepherd puppy who Marion got from the same breeder where she got Moon Shadow. Bella is a serious Mama's girl and spends just a bit of time on her Mama's lap!
Sammy and Bella are becoming fast friends and play mates.
In Loving Memory - Moon Shadow Backus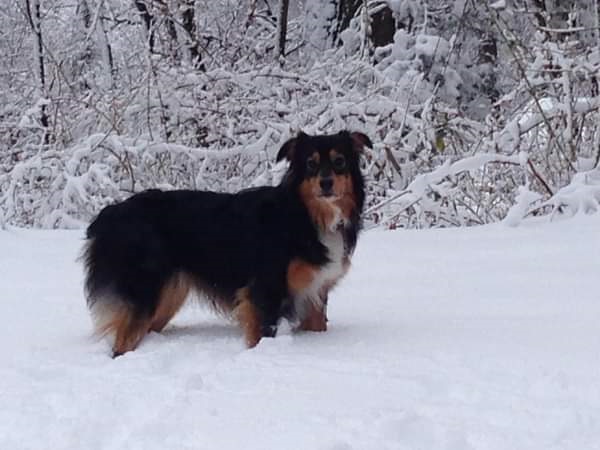 May 17, 2013 – August 12, 2022.
Moon Shadow slipped away peacefully on her last ride home with Marion, Richard, and Grace.
Earlier this week, following a splenectomy last week, necessitated by a splenic mass, Moon was diagnosed with hemangiosarcoma, an almost certainly fatal disease in canines. We are shocked and devastated that she is gone so very quickly, realizing, when Marion and I surrounded her to get her out of the truck after our ride to Marion's, that she had left us. The joy and fun of having her in our work and personal lives for 9 years leaves us reeling with profound sadness. She was taken from us too soon.
Moon Shadow was an Australian Shepherd, so full of energy, so smart, and oh so stubborn. She could learn anything you wanted to teach her in a day and fight you about it every day there after. My fondest memory of this was one weekend we had a sleepover. Moon loved to play ball in the house and I have a wall with hundreds of tennis ball marks to prove it. Keep away was her favorite game and I was not enamored of it. In a few hours of diligent training, she had learned to bring the ball back to me and drop it in my hand. After that, it was always a battle of wills with her. I would say, "Put it in my hand" and she would dance around and avoid me, until I threatened to stop playing, and she would place the ball in my hand. Like I said, so smart and oh so stubborn.
Moon was an amazing, loving, and loyal friend who might grace you with barks or kisses. Her kisses, given freely most often, were a gentle touch of her tongue to the tip of your nose, if she was inclined to give them. If she was mad at you for something, kisses were not available. I know, because I always asked for them and mostly got them, unless I was leaving her at the office when she wanted to go home, and Marion couldn't leave just then.
Her vibrant energy earned her an amazing number of human and canine friends. She could win you over at once, or bark at you and both were options. Her barks never failed to alert us that someone had dared to enter her domain without her permission and while they were intimidating there was no malice involved. She loved being outside, hiking and going to the beach. Any walk to her favorite strip of grass would almost inevitably lead to a tug of war as she tried to drag Marion to the beach. She loved going to the beach, running in the sand, and chasing her Chuck It ball into the Bay.
Moon was Marion's baby, a snuggler, who loved to curl up with her Momma to share their love for each other. She was a steady beacon in our world of chaos. She never failed to gain Marion's ire, at times, as she followed me around the office constantly wanting to hang around with the boys and not miss anything that was going on as we went through our day.
Moon was Gala's best friend in the last year of Gala's life and she and Gracie were best friends for almost all of Moon's life. They ate, played, slept, and traveled together more times than I can count and I treasure every single one of them.
Moon Shadow Backus' part in making our lives better is complete. Moon educated us in unending love, commitment to the joys in life, and boundless energy when you thought you had none left to give. We will miss her so very much. Through our broken hearts we grieve. We will take the lessons you taught us, little one, and we thank you, and will remember you, for all you gave us.
In Memoriam - Guardenia Galadriel
Wednesday, June 4, 2014
It is with tremendous sadness that I report that I lost Guardenia Galadriel, Gala, in the early hours this morning. As was the way, these past few months, I awakened early and checked to see if she was still breathing, she was not. I waited until 5:00 a.m. to call Marion, who came right over. If I was Gala's Dad, Marion was her Mom.
Gala was my baby. During her entire life, I don't think she spent more than 6-7 hours a week alone. If she wasn't with me, she was with Marion. She went almost everywhere I went, even to the golf course as a puppy. She was the sweetest, most gentle, most hard-headed friend I have ever had.
I picked up Gala, originally Bailey at the Coffman household, which was the home of Guardenia Great Pyrenees, in Northern VA at 10 weeks and immediately took her to meet my family in Herndon. She hated being in the car and away from the commotion of her home, with a couple dozen other puppies and many adult Pyrs. She adjusted quickly, though, and found a new family. All of us fell in love with her.
After I got her home and all moved in, she came to work with me. She met Marion and Stormy, Bob, James, Jim, Mike, and the rest of the crew.
Gala tormented Stormy, endlessly, as puppies are wont to do. They became best friends and had amazing times together, until Stormy succumbed to cancer.
I found out, while she was still a puppy, that she and I shared a love of French Bread. Driving home from a visit to my Mom and Dad's, Mom had bought some French Bread for me from a bakery adjacent to the restaurant where we had lunch, I decided to have some while cruising south on I95. Gala stuck her head between the seats and would not leave me alone. She didn't eat "people-food", so I doubted she would eat it. I tore a piece and handed it to her. It vanished! We ate the entire loaf before Williamsburg. French Bread became a favorite treat for her, the rest of her life. If there was French Bread, Gala made sure she got some. As she got older, she also discovered my Mom's talent for baking, especially Mom's bread. Mom always made special rolls for every visit Gala made to her house.
Thunder came into our lives and tormented Gala. Justice. They, too, became best friends and played together, walked together, ate together, and slept together for years, until cancer took Thunder from us.
Finally, in the last year of her life, another puppy! Moon Shadow came along, after Gala was mostly too old to play with her, the way Moon so desperately wished she would. Still, they became great friends and bed-mates, sharing treats, though Moon often stole what Gala didn't eat quickly enough.
In the last six months of Gala's life, I fed her steak for every meal. Somewhere along the way, probably the result of a steak she stole off the table, she developed a love for steak. Feeding her steak assured that she would eat and she ate well to her last day. Moon discovered that she, too, loved steak and reaped the benefit from many evening visits to the house and sleep-overs.
Gala loved being outside and had more fun playing in the leaves, in the fall, and snow, in the winter, than most kids I've met!
Gala lived 15 years, 3 months, and 12 days. An unbelievably long life for a Great Pyrenees, not nearly long enough for me. I'm glad I had every single minute. The void she leaves with her passing may take longer than her life to fill.
In Memoriam July 5, 2013 - data cable technologies lost of our friend and companion, Thunderbolt Backus.
Thunder came to us from near-certain death after staying too long in a local shelter in March 2005. She was missing quite a few teeth and showing sure signs of the difficult life she had before Marion adopted her.
Undeterred by her previous life, Thunder welcomed us, as surely as we welcomed her. She was immediately fun, feisty, and playful. She was always willing to be loved, and to love.  If she wasn't getting the attention she wanted, she would gladly let you know.  Many mornings, she spent her first minutes at the office running at full speed throughout the office space, playing with Marion, Gala, Richard, Bob, and the crew.  Even missing teeth, she loved to play tug and often made new canine friends by inviting them to play with one of her favorite tug toys. Thunder loved meeting other animals and making friends.
Thunder and Gala spent most of their lives together, including countless sleepovers. They played, or snoozed, the days away. To her last day, they often slept against each other or, at least, beside each other.
Thunder never failed to protect us from our friend and longtime mail carrier, Mike, the big mean U.P.S. truck, though she loved the drivers, and low-rumbling motorcycles.  Thunder would gladly "notify" us of any visitor to our front door. She was the official office treat rule enforcer.  The rule being: if Richard left the office and returned, something you might imagine happened fairly often, Thunder ALWAYS got a treat upon his return.  Sometimes, that meant she got treats, even if he just went to get something from his truck out front!
Thunder was Marion's girlfriend, constant companion, closest confidant, and willing travel buddy. She just returned from trips to visit Grandma, Grandpa, and the Backus family in New York. Her final trip was a visit to Liz and Bill in western VA, enjoying the beauty of life outside in the Blue Ridge Mountains and good times with close friends.
As sad as we are to say it, the bone cancer she was diagnosed with some months back finally managed to make her life too painful and the fight utterly futile.  Because Marion and Thunder found each other, Thunder had an amazing life filled with fun and playtime, friends and family, and every bit of love any of us could want.  
We loved her tremendously and will miss her, at least that much.
In Memoriam - March 26, 2005
data cable technologies, inc. lost of our friend, companion and official company greeter, Storm Cloud.
Stormy graced our office, played with us, tolerated us, entertained us, helped raise Gala and taught her how to run the office, deterred the uninvited (and occasionally the invited), and protected us from those who failed to threaten and those who dared to knock, for nearly 12 years.

She will always remain in our hearts and thoughts as fondest memories.